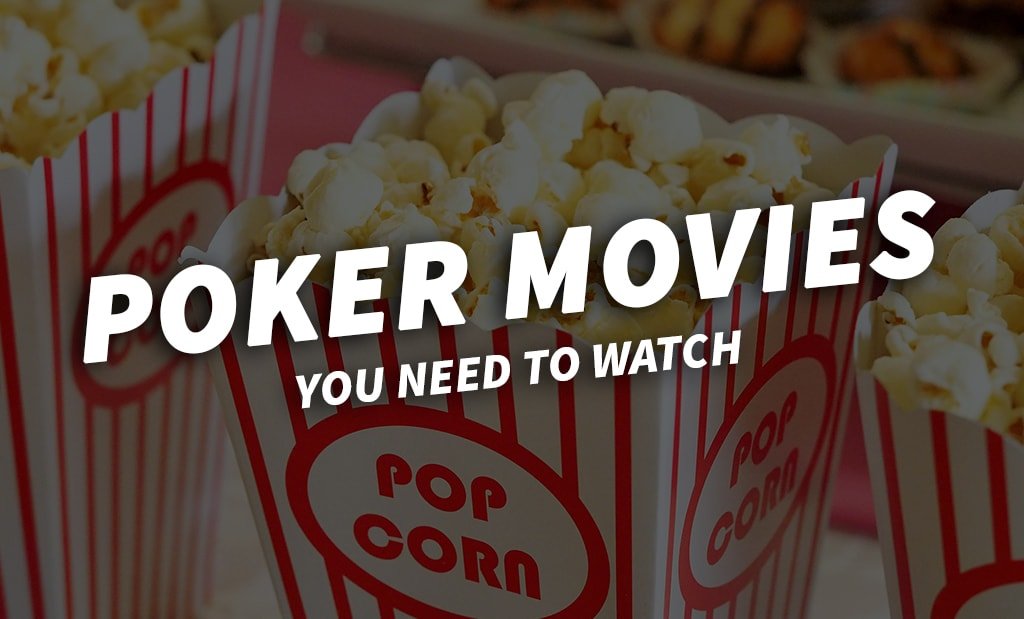 We (the EasyPoker team) have created a top 5 list of what we think are the Best Poker Movies ever made. A
favorite pastime of ours is watching poker movies. So pop some popcorn and enjoy the bests of bets and bluffs and watch with your fellow movie buffs (That rhymed. Unintentional.).
5. Oceans 11 (2001)

By Steven Soderbergh
The ratpack remake of the 1960's movie of the same name, is a fast-paced American heist
movie – spiced with a dose of great one-liners such as: "We're in Barney. Barney Rubble.
Trouble!". Poker is far from the main-theme, but as the team hits the tables, we are introduced to
a world of gambling and the shiny lights of Las Vegas. This gives Oceans 11 a top five spot on our favorite poker movies list.
A favorite scene of mine is when Brad Pitt and George Clooney try to hustle a few 'rookies' in a
game of poker – that the rookies are portrayed as their real self actors, makes the scene even
more enjoyable to watch.
Starring: George Clooney, Brad Pitt, Julia Roberts and oh so many other top notch actors.
IMDB: 7.8 (That's pretty damn high)
4. Maverick (1994)
By Richard Donner

Mel Gibson is the slick gunslinger and poker player, Bret Maverick. When the submission for
a poker tournament is too high, Maverick finds himself in a desperate need of money. Throw
in a charming thief, high-pursuit horse chases and Maverick's funny attempts of hustling
money and you'll find yourself with one heck of a good poker movie.
Starring: Mel Gibson, Jodie Foster and James Garner.
IMDB: 7.0 (A highly enjoyable watch with a great rating)
3. The Cincinnati Kid (1965)
By Norman Jewison
A modern David vs. Goliath, as a young and up-and-coming poker player tries to prove himself
against the champ. Steve McQueen aka. The Cincinnati Kid goes head-to-head with Edward. G.
Robinson aka. Lancey Howard.
Women can't resist him, men want to be him and poker players can't call his bluff. It's a
world of no limits and the Cincinnati Kid is taking it all, one game at a time. Working his way
up to the high-stakes table, Lancey Howard will see if the Cincinnati Kid is "all bark and no
bite".
Starring: Steve McQueen, enough said.
IMDB: 7,3 (An old dog can still learn you new tricks).
2. Casino Royale (2006)
By Martin Campbell
It seems as if tomorrow never comes with the dashing 007 Bond, James Bond that is. The
saga continues with Bond finding himself in the middle of high-stakes poker game. His
adversary is the always brilliant Mads Mikkelsen playing the "ball-crushing" Le Chiffre aka.
Mr. Number/The Cipher. Hot women, dry drinks and a poker movie that combines the best of
action with the intensity of calling someone's bluff in a game of poker. All in all Casino Royale gets the second highest spot on our best poker movies list.


Starring: Daniel Craig, Judy Dench and Mads Mikkelsen.
IMDB: 8.0 (Chuck Norris doesn't even score that high. Joke, of course he does).
1. Rounders (1998)
By John Dahl
This classic is old but gold and definitely deserves the top spot on our best poker movies list. The book smart, law-grad Mike McDermott (Matt Damon) gets
reunited with his, just prison released, best friend Worm (Edward Norton). When Worm
lands himself in some trouble, Mike has to return to the table to save his friend in a game of
poker. The movie devotes its love to poker, seen through the eyes of two young punks who
risk everything with the cards they are dealt.
It breaths poker in every sense and you feel the intensity rise with the flop, the turn and the
river. The movie is voted the best poker movie on IMDB as well, so trust the numbers.
Starring: Matt Damon and Edward Norton.
IMDB: 7,3 (Old but gold. Rounders still got it).
What do you think? Please let us know in the comments if we missed a great movie. Have a good time watching!