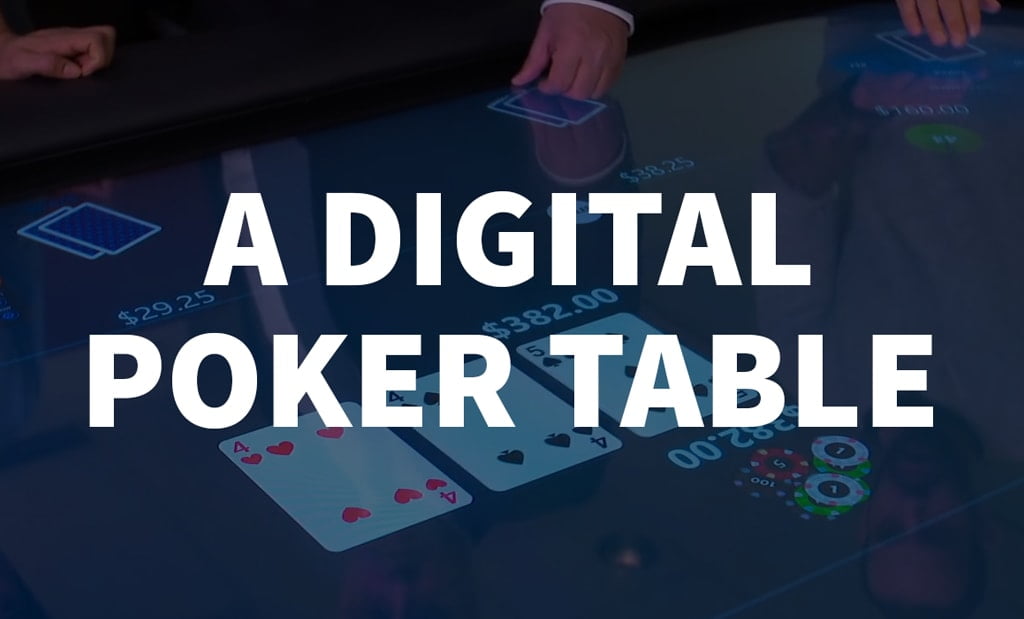 Are you ready for the digital poker table?
Tech is changing everything. And now it's changing how we play poker in the traditional casino. At least that's the vision of the company 'Jackpot Digital'. Their new digital poker table enables up to ten players to play texas hold'em. They call it Jackpot Blizz.
Digital Poker Table
Jackpot Blizz's digital poker table features an 84-inch 4K resolution touch screen. The table supports gestures we know from online poker. I have not tried it yet but it looks very intuitive. Take a look for yourself.
The whole experience is virtual. The cards are dealt by the computer. You see your cards, call, bet and raise by tabbing on the screen. Seems cool. 
Gimmick or Solid Tech
Jackpot Blizz's digital poker table has both pros and cons. It's perfectly designed for cruise ships and small casinos. It has a faster gameplay, needs no dealer and it is impossible to cheat. But will this be enough to replace the traditional poker table or is it just a gimmick?  
Are Digital Poker Tables the Future?
Personally I really enjoy playing poker in a casino. Interacting with other players and the dealer, feeling the cards and playing around with the chips makes me feel like James Bond. It's something that I can't do when playing on my phone or computer.
I don't see Jackpot Digital's digital poker table replacing traditional poker anytime soon. But that doesn't mean they don't have a place in the market.
When we created EasyPoker we weren't trying to replace traditional poker or even online poker. We simply wanted to make face to face poker more accessible in spontaneous situations. Allowing poker fans to play a game of social, face to face poker – anytime, anywhere.
The social experience of traditional poker, with the convenience we know from online poker.
Therefore, we can certainly appreciate Jackpot Digital's attempt to shake up and rethink the way we play poker. 
Get More Cool Poker Content