Poker App Against Friends
EasyPoker is the free app to play poker against your friends.
Poker App to Play Against Friends
Poker is a great game! But it's complicated to play against friends. You will need poker chips, playing cards and a big table. And it is basically impossible to play spontaneously, because no one walks around with a full poker set at all times – until now.     
EasyPoker is the free app that lets you play poker against friends – anytime, anywhere. Now everyone can walk around with a poker set everywhere they go.   
Play Against Friends
The EasyPoker app is not only multiplayer – it is also designed to be played live against friends and family. This means that YOU decide when to deal. All cards are afterwards dealt bottom up, just like in real poker. This is very bad news for peekers but great for your poker experience. 
You can think of EasyPoker as an electronic poker set that you can bring anywhere.
Why Use EasyPoker?
EasyPoker is the first app to truly bring you the real poker experience, without compromising the gameplay. The functions that make EasyPoker great is:  
Play against friends (iPhone & Android)

Simple interface.

Kahoot-style connection.

Texas Hold'em.

Designed for live poker.

Tap to see your cards.

Plug & play.

No clubs or need to buy chips.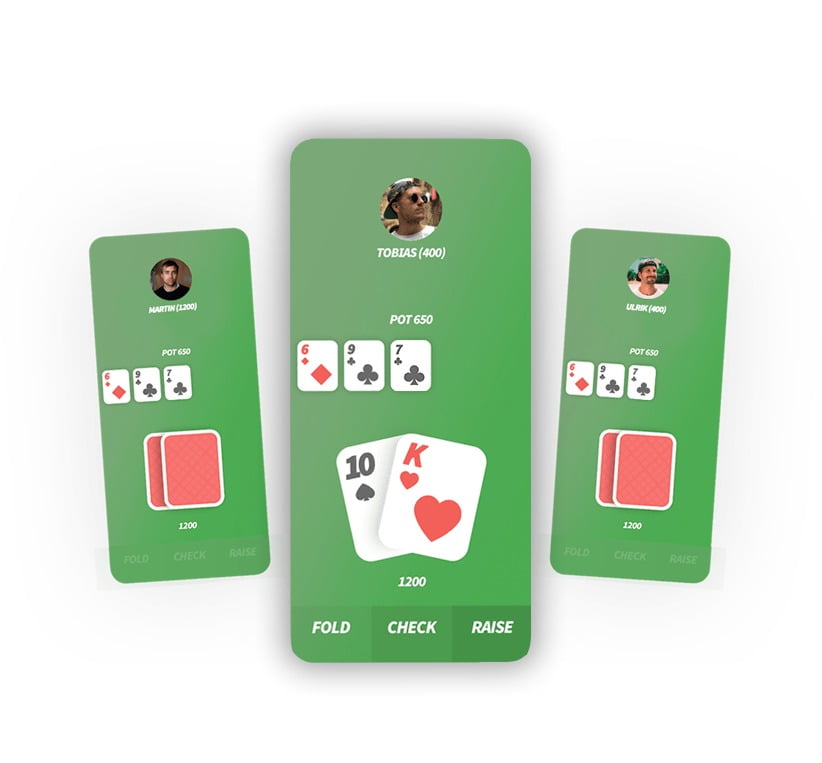 Poker Against Friends – Anytime, Anywhere.
The app opens up for completely new possibilities for you poker games. You can challenge friends no matter where you are. Play live poker when you are traveling, riding the bus or train, around the campfire, while waiting in the restaurant, when the flight is delayed – again. Really anytime, anywhere.
And the best thing about this is, that EasyPoker is free. No need to buy chips or anything. Just download the app and you're ready to go. If you have ideas for new functions or questions about the app then please reach out to us.