Multiplayer Live Poker App
Multiplayer live poker app for your next face to face game of live poker.
Multiplayer Live Poker App
EasyPoker is the multiplayer live poker app for poker-people on the go! With our app you can play a live game of poker, no matter where you are. Just download the free app for your iPhone or Android device and you're ready.  
The app is perfect for when you're hanging out with your friends and feel like playing poker. Imagine playing face to face poker on the beach, around the campfire, on the airplane, when traveling in train, while waiting in the restaurant etc.
It sounds kinda difficult right? You'd need a full deck of cards, a ton of chips and a big table to support it all. Well, not anymore.
Just fire up the free EasyPoker app and you're ready to play poker – anytime, anywhere.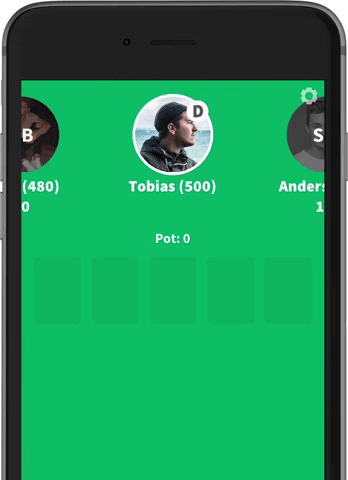 The Live Poker Experience
EasyPoker is designed to simulate the original live poker experience. That's why we call it 'the digital poker set for your pocket'.
Everything that comes with a traditional poker set comes with the EasyPoker® app – and everything that doesn't, do not. This means that you don't have to buy play chips, no crazy looking avatars, no bots and no long distance games with strangers.
EasyPoker® is the live multiplayer poker app for when you're sitting face to face with your friends. And nothing else. This is the experience we're trying to create. There are tons of regular poker apps that let you play with strangers online, but nothing that lets you play with the friends you're in the same room as. And that is the problem EasyPoker is solving. 
Multiplayer Live Poker App for the Social Engagement
Poker is a social game. And it has been ever since it was first played back in the early 19th century. Back then you were always sitting in the same room when playing poker. That's not always the case anymore. We think it's because of poker's inability to be played spontaneous face to face. In order to play a traditional game you'll have to find a poker set, the right surroundings and a table big enough to hold all your friends. That's why most poker games have to be planned weeks in advance. 
When you're not playing face to face you miss some of the most crucial things in poker – the tells. The EasyPoker® app is bringing back the poker face and the social experience of traditional poker. All packed up in a single, free and convenient app for all of your devices.
You'll never have to choose between the convenience of digital poker and the experience of live poker. EasyPoker gives you both!